Jetbox
Jetbox™, Inc. specializes in developing innovative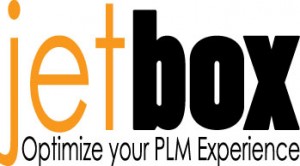 software toolsets to streamline the process of deploying and maintaining out-of-the-box PLM applications. Jetbox challenges the notion that PLM is difficult to sell, implement, use and maintain. With the introduction of its ground-breaking iC5™ Turbo and iC5™ Designer toolsets, Jetbox helps companies execute a smooth and rapid deployment of out-of-the-box PLM applications with the added benefits of enhancing and optimizing user experience and productivity, reducing the need for customizations, and rapidly increasing the overall time-to-value for companies.
Solutions from Jetbox:
iC5™ Turbo - iC5 Turbo is a revolutionary, rapid deployment methodology designed to address the most pressing challenges companies face when deploying a PLM system. It is a comprehensive solution developed from years of working with ENOVIA. iC5Turbo enables rapid speed-to-market, industry best practices and standardization, and streamlined implementation cycles, eliminating the need for high investment associated with customized solutions. Your PLM system is now upgradable, maintainable and supportable. Realize the value of your PLM
investment in weeks, not months.
iC5™ Designer: Jetbox has created iC5 Designer as a comprehensive Integrated Development Environment (IDE) for the Dassault Systèmes ENOVIA Platform. iC5 Designer is the only complete IDE for ENOVIA on the market. Traditional development tools and methodologies are purely text based and don't provide the value iC5 Designer offers. iC5 Designer radically reduces the time it takes to make a new developers productive. Additionally, even expert ENOVIA
developers are experiencing significant improvements in their productivity, producing twice the output in half the time. Learn how your team can benefit or you as a developer can become more productive today! Request your free trial now.
iC5™ Drywall: Drywall is a utility for building, backing up and restoring an ENOVIA system quickly and easily. For new ENOVIA implementations, this
means that your company can drastically cut down the amount of time it takes to setup and deploy ENOVIA. For existing ENOVIA systems, this means you can quickly backup and restore your ENOVIA system without fear of losing any data. Find out more today!